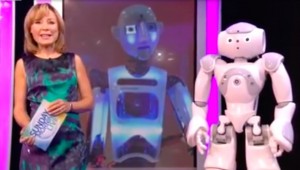 Both Stanley Qubit the NAO robot and his owner Chris Middleton, have appeared several times on TV and radio, and in the press.
On 30 August 2015, Stanley Qubit co-hosted BBC1's Sunday Morning Live breakfast programme with Sian Williams, and later appeared in a debate about the rise of intelligent machines, alongside broadcaster Ana Matronic and playwright Bonnie Greer.
In 2017, Stanley Qubit made history by becoming the first real robot ever to appear in an adaptation of Isaac Asimov's 'I, Robot' stories, for the BBC.
Stanley voiced some of the background robot characters in a B7 production for Radio 4. The press certainly got excited about it.
Stanley also interviewed some of the people involved with 'I, Robot', on the BBC Radio 4 website:-
• AUDIO: Stanley Qubit (the robot) interviews actor Nick Briggs (Doctor Who)
• AUDIO: Stanley Qubit (the robot) interviews scriptwriter Richard Kurti
Chris Middleton in the media
Stanley Qubit's owner – author, journalist, public speaker, and robotics expert Chris Middleton – has appeared on BBC1, ITN, Radio 2, Radio 5Live, Talk Radio, and local stations talking about robotics and AI. He has also been quoted in numerous newspaper articles, including in The Sun and the Evening Standard. Go to Chris' own website for in-depth information on his work.