Stanley Qubit and the other robots on this site are owned by Chris Middleton. Chris is one of the UK's leading business and IT journalists, and has become one of our best-known commentators on robotics and AI.
• In 2019, Chris produced a detailed policy report on robotics and AI for Innovate UK, on the back of an expert mission to the US alongside some of the UK's leading academics and entrepreneurs in this field.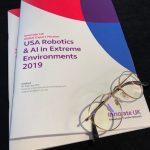 Chris has appeared many times on radio and TV – on BBC1, ITN, Radio 2, Radio 5Live, Talk Radio, and BBC local stations – being interviewed live on air about robotics and AI. He has also been quoted in the national press, including The Sun and Evening Standard newspapers.
Chris is an experienced public speaker, presenter, and conference chair/host, who can incorporate real robots into presentations on robotics, AI, automation, and the Internet of Things.
Chris is consulting editor, and former editor, of one of the UK's leading tech titles, Computing; contributing editor to diginomica (one million unique visitors); contributing editor to TransformIndustry and TransformFinance; former editor of InternetofBusiness.com; and former editor of other top business/IT titles, including Computer Business Review and Professional Outsourcing (now known as Intelligent Sourcing).
Over the years, Chris has written for The Guardian, The Times, the BBC's Tomorrow's World, Computer Weekly, Citywire, Publishing News, PC World, i-CIO, and many others.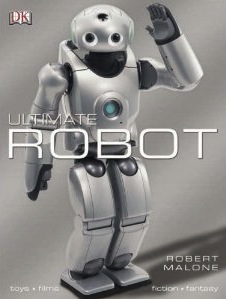 During the Noughties, Chris was the author of a number of books, including Creating Digital Music and Sound; The Complete Guide to Digital Audio, Instant Graphics, and (uncredited) First Steps in Digital Design.
He was contributor to / co-editor of The Big Read Book of Books (a tie-in with the BBC TV series), and editor of (and prime contributor to) Ultimate Robot (DK, pictured). He has edited more than 50 other books, on design, photography, video, and movie special effects. He is currently working on an illustrated book on robots.
COLLECTOR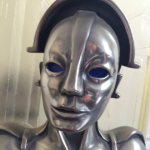 Stanley Qubit – named in honour of Stanley Kubrick, of course – is part of a real robot collection that includes several robots designed by Tomotaka Takahashi, a Hanson Robotics Einstein robot, and rare toys, figures, and models, including movie icons, such as Maria, (pictured), and HAL from 2001: A Space Odyssey.
Go to Chris' website for more information on all of the above.