To hire any of the robots in our collection, contact writer and robotics expert Chris Middleton:-
BY EMAIL
chris@chrismiddleton.company
PHONE
07986 009109 (UK)
+44 7986 009109 (overseas)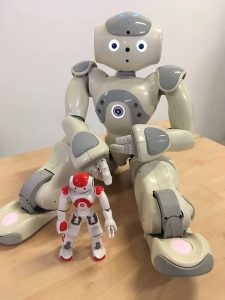 You're welcome to hire our robots 'as is', but we can also create content especially for you.
Uniquely, you can commission Chris, one of the UK's leading robotics writers and speakers, to incorporate the robot(s) into presentations on robotics, AI, machine learning, automation, the Internet of Things, coding, algorithms, and future technology.
How much does it cost?
Costs are quoted individually per job, so please get in touch to discuss your needs. In our customers' experience, we are more competitively priced than other UK-based robot services.
Where are you?
We're based in Brighton in the UK, but are happy to travel to you.
Please note
• The robot always travels with his owner and minder, Chris Middleton.
• Air travel may involve making special arrangements for the robot.
• We reserve the right to refuse bookings if this is likely to be a problem.
Legal Statement: This site has no connection with SoftBank or Aldebaran Robotics, makers of all NAO robots. Stanley Qubit is a character owned by Chris Middleton and identified by unique markings. Hire of Stanley Qubit does not constitute an endorsement of your organisation by Chris Middleton, SoftBank, or Aldebaran Robotics.