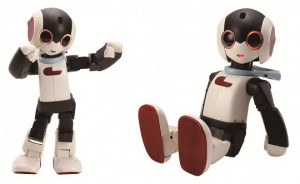 As well as Stanley Qubit, you can hire Robi, his little Japanese cousin, as a guest star at events and presentations.
Robi is a childlike robot. He's just 14 inches tall, but – like Stanley Qubit – he can walk, talk, sing, dance, play games, do household chores, talk to human beings, and more – including drive his own 'Robikuru' car (the only one currently in the UK).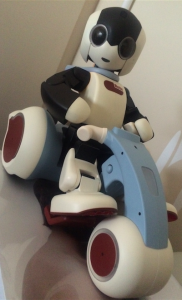 Robi was designed by robotics visionary Tomotaka Takahashi, CEO of RoboGarage and a Professor at Kyoto and Tokyo universities.
• Here is a video of Prof. Takahashi talking about Robi.
• Here is a gallery of Takahashi's beautiful robot designs.
• At present, this Robi speaks only fluent Japanese, but Chris Middleton – the journalist owner of both Stanley Qubit and Robi – is acquiring an English-language speech/language recognition module for him. 
To contact us for details about hiring either Stanley Qubit (the NAO robot), Robi, or both, go here.
Robi gallery